I'm not talking about the United Federation of Planets, but instead something that is real today. You've probably heard me talk about this quite a bit already, but out of concern for family and other people around me, I'm going to talk about it again. The problem is Zuckerburg and Twitter, and the solution: Federation.
The Glaring Problem: Facebook and Twitter
Facebook, being an advertising company rivaled only by Google, wants total control in order to track users in order to personalize ads in order to increase clicks. Of course, this is creepy and means being sold like property. Who wants to see *any *ads anyway?
Both companies have been caught in nefarious practices involving elections. Facebook is letting fake ads run, but not from action groups. (Or that's what I've heard. It's a known fact by now that they're letting fake political ads get through.)
Both companies, mainly Facebook, have total control over everything that the public sees. They run everything from the Karen groups on the ol' Book to the average teenager on Instagram. Twitter runs pretty much everyone they see as agreeable.
The Glaring Problem: YouTube
YouTube is a total monopoly on the video business. If you want to watch a video, it has to be on YouTube. Unless it's InfoWars, in which case it has to be on Vimeo or Dailymotion, the other two contenders. Neither are preferrable as they're also proprietary.
YouTube has been falling apart recently, too, with mass de-verifications and advertising problems, such as double ads, on the rise. It's nearly impossible to get anyone to switch to literally anything else as many people's lives are built around YouTube, either making money or couch potatoing.
The Clear Solution: Federation
When the first OStatus implementation came out, nobody thought that they could possibly rival the likes of Big Tech. With Big Tech falling apart by the day, OStatus's successor, ActivityPub, can take hold. I'd love to see more people joining the Fediverse, which is named as a portmanteau of "federation" and "universe", but I'm sure you guessed that. It's an affectionate name of a group of servers that can interact with each other, somewhat like email. In fact, the addresses look like email, so you know you can mention someone at a different website than you: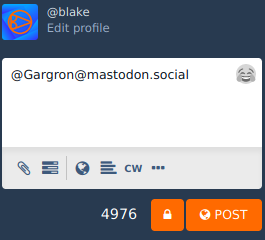 The post box of my personal Fediverse profile. You can see I'm mentioning the Mastodon developer, whose account is not on my website. I can read his posts since I follow him. There are different types of servers, or instances. *These serve various purposes. For example, Mastodon and Pleroma are equivalent to Twitter. I run a personal Pleroma instance at home. There are other types too: if you're familiar with Instagram, you'll be at home with Pixelfed; if you like Reddit's structure then Prismo is good for you (although that one's quite broken); if you are used to the Facebook interface and style you should try Diaspora or Friendica.
Another great thing is that (on most instances) there are no ads. That's huge, because on any website with ads, you will be stalked. Now, of course, there will still be people posting about things and thus "advertising" them but you won't see Google anywhere or Facebook anything.
Of note, however, is that there are no "verifications." This is a result of the way federating works; centralizing for verifications defeats the point. However, users can use Keybase to cryptographically tie their accounts together, so if they verify their Keybase with both a Mastodon and Twitter account, you know those three are owned by the same entity. You can also have a mutual address mention for profile links on Mastodon: it checks for a rel="me" link on another page, but that's an advanced feature.
You've said enough, now give it to me!
Here are some links to get you started.
If you want to sign up for Mastodon (see note below): find instances at joinmastodon.org
If you want my word for it, **take Mastodon. **That one has the most features, the most support, and such. Then feel free to follow me for random things and updates: @[email protected] (Try copy-pasting the linked address into search if the one shown doesn't work.